Guest Blog: By Marines, For Marines: Firestones Release New "Jarhead" Wines Amidst Son's Return from Deployment
by Gabe Saglie, Senior Editor, Travelzoo
The Firestone family (pictured above) is celebrating a homecoming: 1st Lt. Nick Firestone has just returned from a year-long deployment in Afghanistan. The 26-year-old Marine arrived home in the Santa Ynez Valley on November 8th. This was the second deployment for the young member of the well-known Santa Barbara County family, who ended his first tour, in the South Pacific, early last year.
"For me, it's half excitement and anticipation, and the other side is parental nerves," his dad, Adam Firestone, told me last year, right before his (and wife Kate's) son left for the Middle East. "But I understand the tradition."
And he should. Adam Firestone is, himself, a former Marine, having joined in 1984. He was promoted to Captain in 1988, ahead of his deployment to the Persian Gulf, and ended his service in 1991. Mr. Firestone, 52, son of Kate and former 35thDistrict State Assemblyman Brooks Firestone, has since gone on to spearhead the family's business ventures in wine grape growing and craft beer making.
The Firestones' connection to the U.S. Marines has, in fact, inspired one of their ongoing winemaking ventures: the Jarhead label.  Adam Firestone admits that "jarhead" is a double-edged term. "It's a complicated name, because it's pejorative on the one hand," he says. But because it's also used as a friendly nickname among U.S. Marines, "it's also a term of endearment."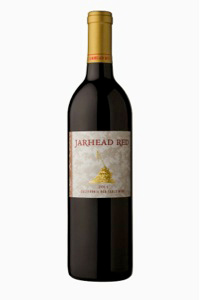 Jarhead is now on its 13th vintage, with two wines released just this fall. The 2011 Jarhead Red ($15) is a Bordeaux-inspired blend of merlot from Paso Robles and petit verdot from Santa Ynez.  The 2011 Jarhead Reserve ($24) is a limited-edition wine composed primarily of cabernet franc from the Firestone family's Curtis Estate vineyard in the heart of the Santa Ynez Valley, along with some petit verdot; only 326 cases were produced.
The Jarhead wines are fruit-driven and approachable by design – "We want them to shoot right through the middle of the target," Firestone told me – and, at their price points, remain some of the best wine values out of the Central Coast.
Proceeds benefit the Marine Corps Scholarship Foundation, which provides education assistance to children of Marines, with special emphasis on families of fallen Marines. "In the charity world, there are a lot of transitory causes," says Firestone. "But I wanted to back something that, at its core, was really pure and where the whole thing was completely authentic. I had really studied these guys – they started in 1962, they're really lean and all dollars go to the target. And the fact it's education-based – that funding is for a specific purpose – it sets a continuum."
Firestone runs Jarhead with fellow former Marine Ruben Dominguez, a Texas native who served five years and who started his wine industry career at Firestone Vineyard in the mid-90s; today, he's the lead foreman for grape maintenance experts, Coastal Vineyard Care. The wines sell through a membership club (which ships out twice a year, around Veteran's Day and around Memorial Day) and online, at jarheadred.com.