Honoring Native American Heritage Month
This November, during Native American Heritage Month, the Marine Corps Scholarship Foundation reflects on the outstanding service of the Navajo Code Talkers in World War II. Several Marine Scholars are members of the Navajo Nation and have family members who served as Code Talkers – in honor of their brave legacies, we'd like to share one family's story.
Twins Xezae and Xezel know the legacy of service well. Their great-grandfather served as a Code Talker and their father, Staff Sergeant Otis Peshlaskai, is an active-duty infantry Marine. Their mother works as a dental assistant for Marines on base. The brothers know the sacrifices Marine families make well – they helped their mother with their younger brother while their father was deployed and faced the challenges of moving in the middle of the school year. However, Xezae and Xezel  say it made them resilient and determined. Now, they are scholarship recipients and will be the first in their family to attend college.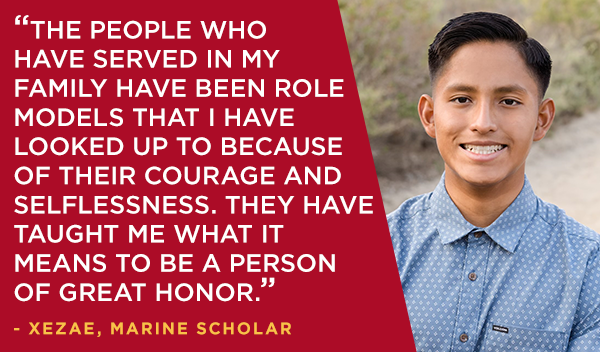 Xezae studies Electrical Engineering at the University of Santa Cruz. He said, "Growing up as a Navajo, I was taught to respect the earth and all animals on it. My culture has led me to want to pursue an engineering degree to learn about ways I could make a positive impact on Earth." Thanks to his scholarship, Xezae can attend school full-time, without needing to work. He can focus on his studies and his goal of developing new technologies to solve environmental issues.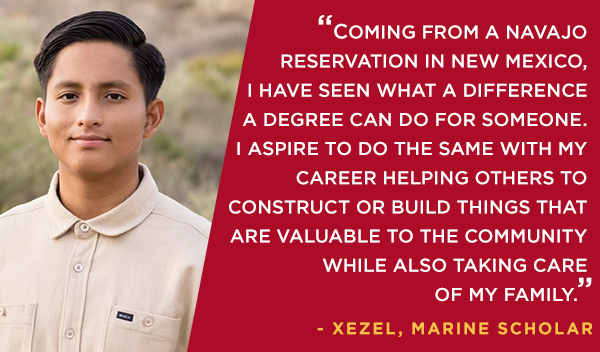 Xezel shares a love of engineering with his brother – he is studying Electrical Engineering at Swarthmore College. Over the summer, Xezel will do research about batteries at Drexel University–he's interested in solar and other green forms of energy. With the support of his scholarship, Xezel can attend his dream college, which offers him a broad range of classes and educational opportunities.
Xezae and Xezel's great-grandfather was one of more than 400 "Code Talkers" – Navajo Nation members who served in the Pacific theater during World War II. Their work, using the Navajo language to send encoded messages on behalf of the military, was instrumental to Marine successes at Iwo Jima and other amphibious assaults. Because their work remained classified for many decades, it wasn't until 1992 that the Code Talkers were publicly honored for their incredible service.
Over 75 years later, we continue to honor their descendants, who were raised not only on the values of Honor, Courage, and Commitment, but also with the heritage of the incredible contributions the Navajo Nation has made to the Marine Corps.